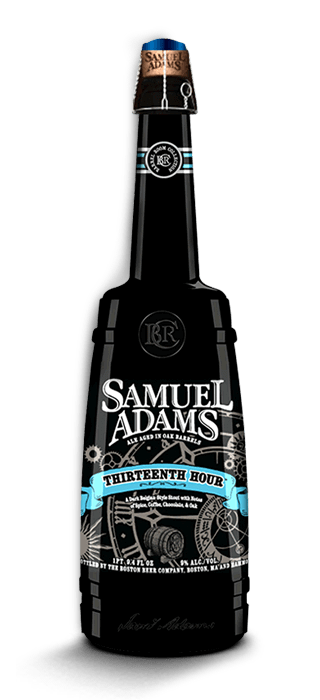 Origin: Sam Adams Brewery (Boston, MA)
ABV: 9.0%
IBU: 17
STYLE: Dark Belgian Stout
Sam Adams has tried a couple of different times to get in to the high gravity beer market. Their most recent lineup, the "Barrel Room Collection" has proven to be most successful- and the "Thirteenth Hour" is my favorite to date. These high gravity beers are aged in oak barrels at their Boston brewery prior to being bottled in Interestingly shaped triangular bottles- And as I walked through the liquor store one night, these caught my attention. Now I had tried their previous high gravity lineups and I could not stand them. This, though, looked different. I shelled out my 10 bucks for this 1pt 9.4oz bottle and took it home. I was impressed.
Appearance – Dark brown (almost black) with a hazel colored head. Even when held up to a light, you cannot see through the beer. Samuel Adams calls this color "Brilliant Black."
Smell – I immediately smelled oak and spice notes while uncorking the bottle (and I knew I'd taste it too). Hints of fruit were apparent as well.
Taste – Initially starts off with a Belgian spice. Then flavors of oak, coffee and chocolate came out of the woodwork (which was what I expected from a beer this dark).This stuff is good. Surprisingly, on the tail end, I tasted a subtle hint of banana; Odd, but it wasn't a bad taste. I will keep drinking regardless! I did discover that as the beer moved towards the room temperature point (not warm, but chilled), all of the flavors became apparent. Drinking something like this cold would cause some of the flavors to stay hidden. So if this is in your fridge, keep it out for about 20 minutes before you open it.
Drink-ability – Easy to drink? Yes. Should you drink it fast? No. This is a beer I sipped to enjoy every stage of flavor the Thirteenth Hour had to offer. I consumed this beer in about 40 minutes. I know, I know… 1 beer in 40 minutes? Remember, this is almost 25 ounces (2 beers), so the pace is just a bit slower than usual. But trust me, it's worth it!
Overall Score – 87%. I was highly impressed with this beer. One thing I've learned about Samuel Adams is that for a craft brewery, they make sure their product is widely available, and for a beer this good, that is a great thing! You will find these in the liquor isle (or store) every liquor store you can find. Typical price is around 10 bucks a bottle, and in my opinion, it's worth every penny. I'm definitely adding this one to my routine!